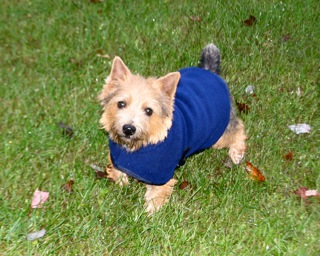 Lightweight Polartec ® 200 fleece is not only 100 rainproof but allows for speedy drying of the wet dog following swimming, bathing or exercise in lousy weather. The breathable quality of the fleece prevents discomfort by avoiding the buildup of excessive heat.
Machine washable, quick drying, needs no reproofing and will not lose its shape or fade. These jackets fold, travel and store in limited space.
Wash in warm water, tumble dry low. It's best to wash with like fabrics. Do not use bleach or fabric softeners. Do not dry clean.
Are familiar with English Company Equafleece? They as well use the same Polartec fabric for their Horse blanket and pet fleece.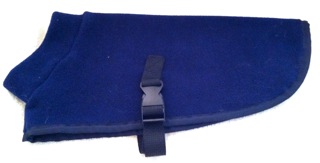 I find that this product suits the following situations:
If an animal is shaved or pulled down this allows him a week or so to acclimate to the temperature.
If you have an animal recovering from an illness and you want to contain their body temperature.
If you have an older dog and the weather is cold or inclement and they need to go out.
If you have just bathed your dog and you wish to put him out but it seems a bit too cool.
I have found that the coat is so lightweight and maneuverable that the dogs forget that they have it on.
These jackets can be special ordered in colors that are currently available from the company (Please pick 2 and order of preference). They can be monogrammed with your dog's name for an extra charge. Purchase five or more the price will be discounted.
Hopefully you will try my Polar Peak-Fleece ® jacket and enjoy the same success as the product here has in NH, Mass, CT, NY and Vermont. Please e-mail me with any questions. norwiches@aol.com
Click Here to Order
---